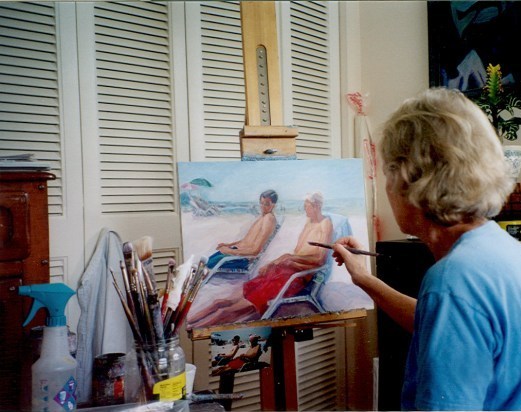 Patricia Whiting is a painter-poet from West Palm Beach, Florida. Her paintings have been exhibited in New Jersey and in Florida, and her pen and ink drawings have been featured in various poetry anthologies.

Her chapbook, Learning to Read Between the Lines, was first prize winner in the 2000 Poets of the Palm Beaches chapbook contest and was published by PPB Press. Her poems have appeared in South Florida Poetry Journal, Slipstream, Thimble Literary Magazine, 2River View, Thorny Locust, Boca Raton, Meridian Anthology of Contemporary Poetry, Encore, Voices from the Fierce Intangible World.

A true Pisces, she doesn't limit herself to one point of view or one style of painting or writing.

Exhibitions:
Clay Glass Metal Stone, Jul 2012
Lighthouse Art Center Contempo, Jan-Feb 2011
Art Loft/Craft Gallery, 2011-2012
Crest Theatre, Delray Beach -Aug.-Oct. 2010
Lighthouse Art Center, Tequesta -Sept.-Nov. 2010
Unarmed Underground, West Palm Beach
Fyrplace Gallery, Lake Worth (solo show), 2003
Palm Beach Airport, 2007, 2008, 2009
Boynton Woman's Club, Boynton Beach, 2007
Sugar Sand Park, Boca Raton, Dec. 08-Jan. 09
LK Mix Gallery, West Palm Beach, June 2009
Sugar Sand Park, Boca Raton, July-Aug. 2009